Who is Outside Inc.?
Outside Inc. is home to numerous adventure lifestyle editorial brands such as Backpacker, Beta, Clean Eating, Climbing, National Park Trips, Outside, Outside Business Journal, Oxygen, Peloton, Rock & Ice, Ski, Trail Runner, Triathlete, VeloNews, Warren Miller Entertainment, Women's Running, and Yoga Journal.
In addition to traditional, well-known media properties, Outside offers members a comprehensive suite of tools, experiences and content to help pursue their passions.
Our goal is to deliver the best-in-class content, while inspiring you to do the activities you love, more often, and with greater knowledge and enjoyment.
You can learn more, and purchase Outside+ here!
Why am I receiving this newsletter?
You are receiving a newsletter from Outside Inc. because you have expressed interest in one or more of our editorial brands at some point in the last year.
How do I opt-out from receiving Outside emails and newsletters?
At the end of the newsletter or any email you receive from us, you should see the option to 'manage email preferences or unsubscribe'. You should see a new page that will allow you to 'unsubscribe' from any of the communications you no longer wish to receive. If you unsubscribe from all communications, you will no longer have the option to opt-in to further communications.
What is included in the Outside+ digital membership?
Our Outside+ digital membership includes access to online content across over 15 brands, members-only TV shows and films, expert courses, and mapping maps. You can find all the benefits of O+ digital here.
As an Outside+ digital member, you have access to an amazing array of digital benefits, from enhanced editorial, videos and online courses to our premium mapping apps, to help you stay engaged in the activities you love. This list is always growing, but we are currently offering:
Member-only content across

our family of websites

including:

Backpacker, Climbing, TrailRunner, Clean Eating, VeloNews, Triathlete, SKI, Yoga Journal, Women's Running,

and more

All access to select

online courses

from

Backpacker, Clean Eating, Climbing, Oxygen, SKI, Yoga Journal,

and more

Training plans and 1000+ workouts on

Outside Learn

.

Member-only yoga and meditation challenges from

Yoga Journal

7,500 healthy recipes and 100+ meal plans from

Clean Eating

and

Vegetarian Times

Access to the

Warren Miller video library

plus video tutorials from SKI

Premium access to

GAIA GPS

.

Premium access to

TrailForks

and

Pinkbike
How do I reset my password?
If you forgot your password, you may reset it here.
Here are some instructions for changing your password from your MY PROFILE section:
Sign in

Outside

and go to MY PROFILE under the icon in the upper right corner

Select MY PROFILE

Navigate to MY PASSWORD

Input new password and confirm

Click save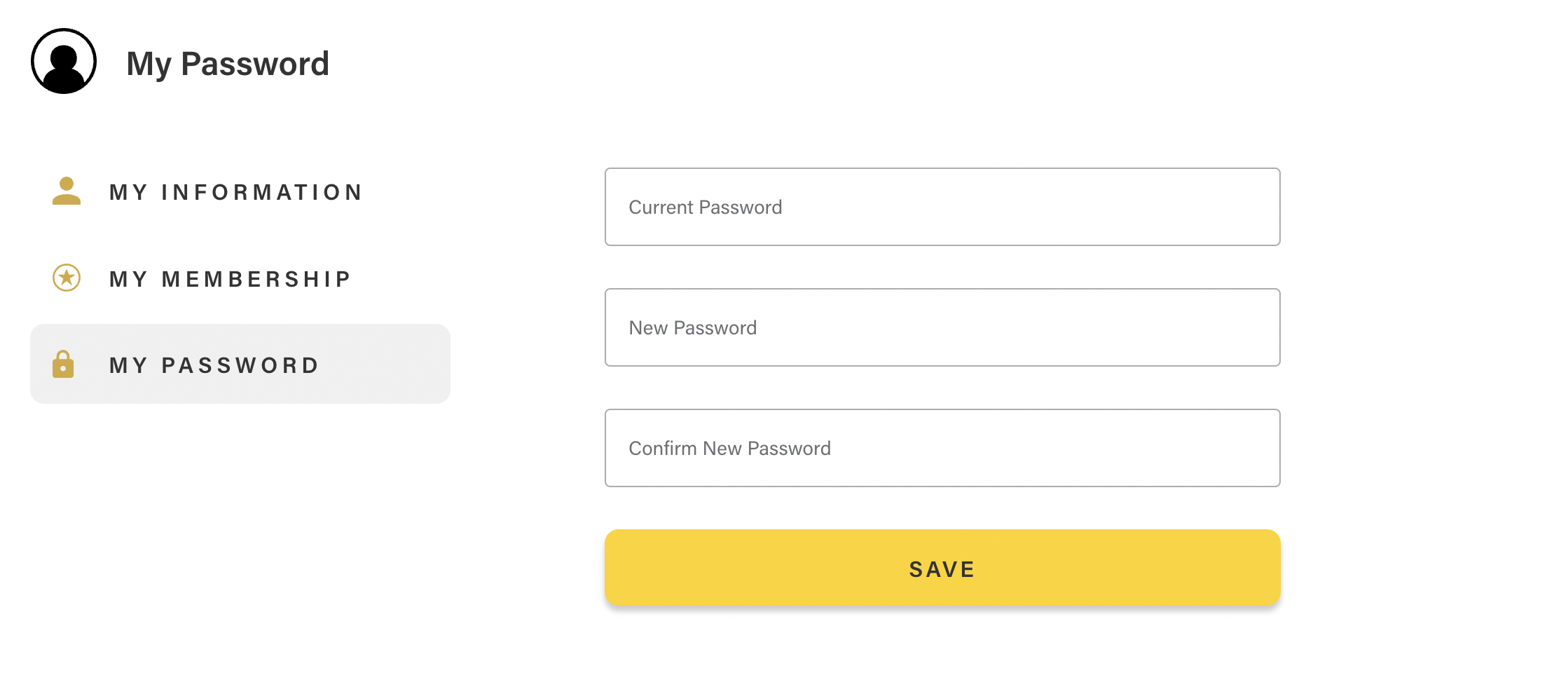 How do I log into my account?
You can log in to view your profile or change your subscription here.
How can I upgrade to an Outside+ digital membership?
From a free account you can upgrade by logging in and upgrading through your profile.
Sign on

Outside

and go to MY PROFILE under the icon in the upper right corner

Navigate to MY MEMBERSHIP

Next to 'Subscription' click 'Upgrade'

Select O+ and continue!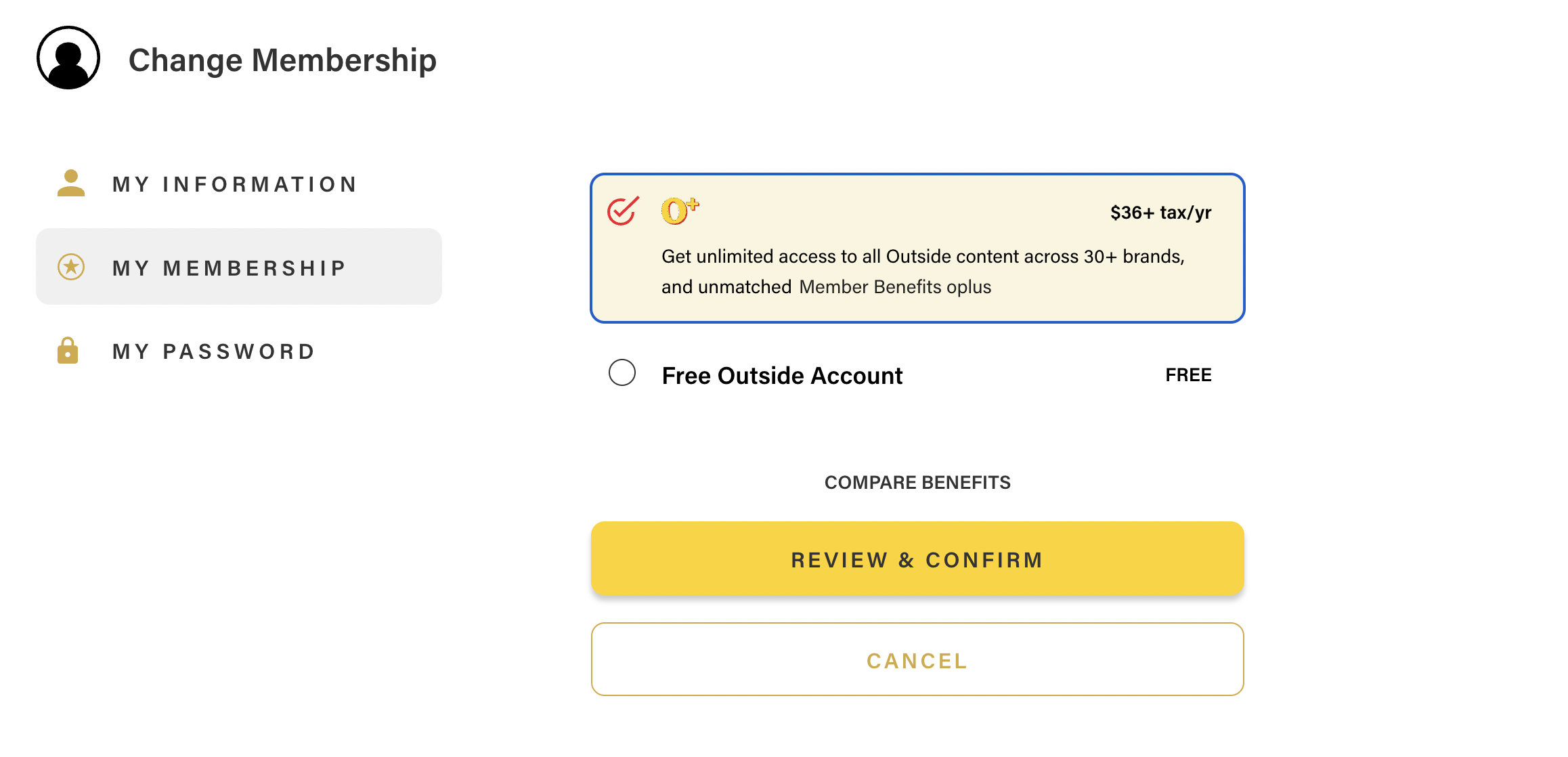 If you do not have an existing account with Outside, you can sign up for an Outside+ digital membership here!