I recently received an email about ROAM. What does this mean for me?
As of April 15, we have canceled any auto-renewal you may have set up for your ROAM subscription(s).
We have winded down the ROAM website and moved classes over to Outside Learn. We've already started adding select classes to Outside Learn, and we appreciate your patience as our team works to move ROAM content over to this platform. As part of this transition, we are offering all current, paid ROAM members a free year of Outside+.
Please note: This offer is only available to subscribers without an active subscription to Outside or its associated brands.
What is Outside+?
The Outside+ membership includes access to online content across over 30 brands, members-only TV shows and films, expert courses, and mapping maps. You can find all the benefits of the Outside+ membership here.
How do I take advantage of a promo code to sign up for Outside+?
You can upgrade to Outside+ through your PROFILE! Please follow the steps below:
Log into your account here and click on the profile icon in the upper right corner of your screen. If you do not have a free account yet, you can also set one up on this same page
Select MY PROFILE
Select MY MEMBERSHIP
Next to Subscription, select Upgrade
Select the O+ membership
Select Review & Confirm​
Enter the code and payment details on the payment page (once you have entered and applied the code, the pricing should be adjusted to $0 under the total amount)
Select Review & Confirm to finalize the upgrade
*If there is already a code in that space, please remove the existing code and re-apply with your code.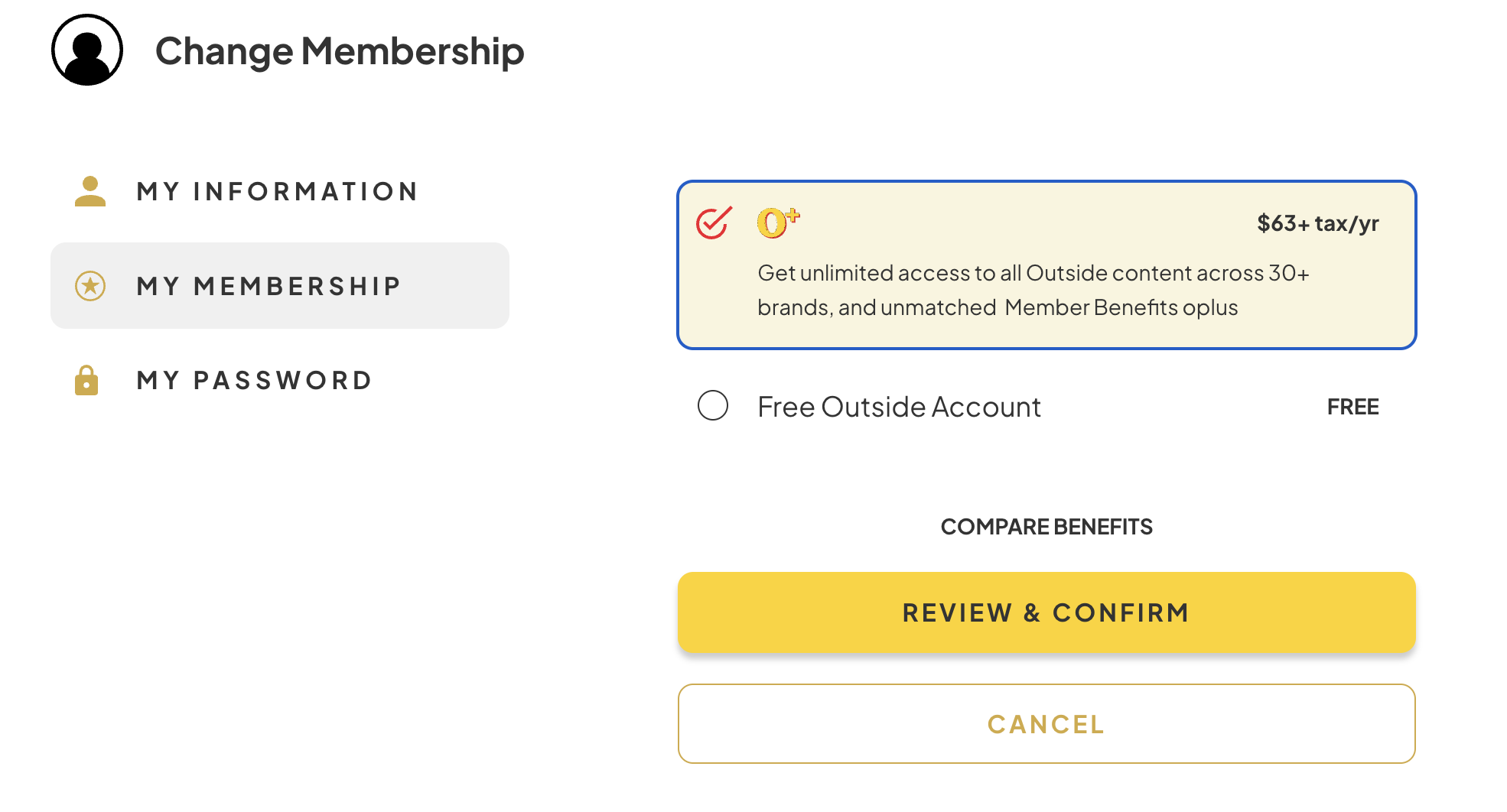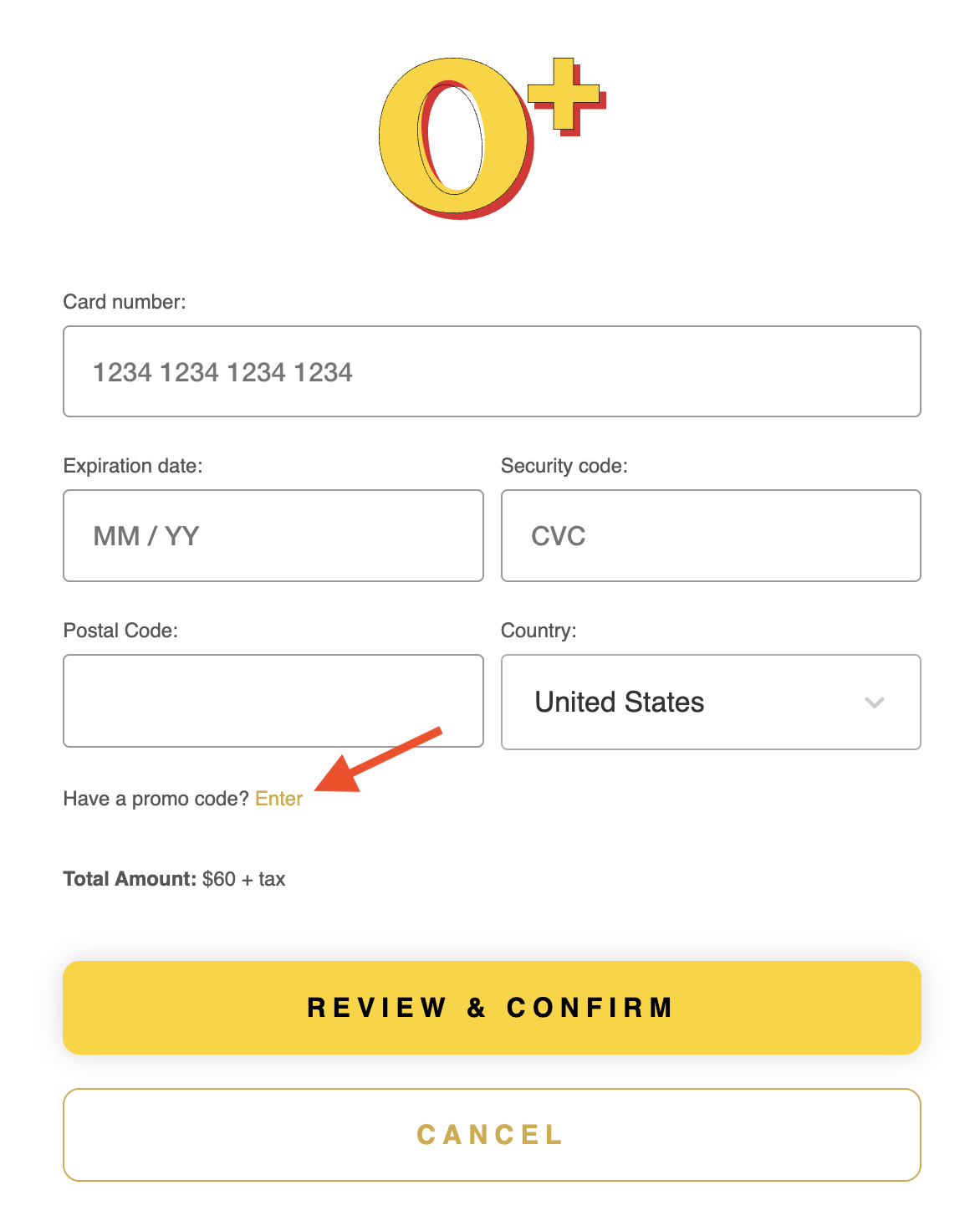 ​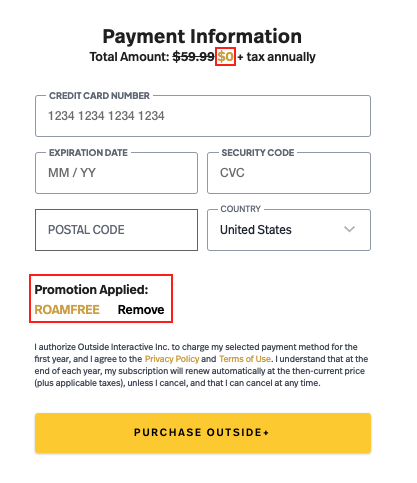 If there is already a code in that space, please remove the code in that space and re-apply your unique promo code. * Coupon must be redeemed by May 31, 2023.
Please note: Our payment processing system requires a credit card, even if you have a 100% off promo code. You will need to enter a valid credit card in order to process your transaction.
How do I access ROAM courses?
You can access select ROAM courses on Outside Learn after you sign up for an Outside+ membership. The following ROAM courses are available on Outside Learn:
Climbing Photography with Jimmy Chin
Climbing Essentials with Conrad Anker
Adventure Storytelling with Cory Richards
Mind Body Prep with Lynsey Dyer
Achieving Your Dreams with Mike Horn
Social Media for Creatives with Kelsey Johnson
Fundamentals of Mountain Biking
Intro to Gravel Biking
Adventure Yoga
How can I access my other perks as an Outside+ member?
We are working to get your perks listed in your profile! In the meantime, you do not have to wait to begin taking advantage of your perks. You may log in to any of the sites below using your Outside+ credentials and have unlimited access.
What if I have additional questions?
Please reach out here and let us know that you are reaching out about your ROAM membership. You will have the opportunity to provide details about your question under the description.