Why is NASTAR moving to a membership model with Outside+?
For many years, NASTAR has largely been supported by sponsorship and resort partners, but prior to COVID, NASTAR started seeing a yearly decline in both, which has created a challenging business model for long-term sustainability, and we want to change this with your help.
This year, NASTAR has chosen to move to a membership model to sustain our program for future generations. With your support, we look forward to continuing to bring greater awareness to the sport, while motivating participants of all ages to get involved in alpine racing.
Historically, most resorts charge a per run fee for NASTAR course usage, but Alterra Mountain Co., parent company of Ikon Pass, now includes free NASTAR racing for guests at all existing courses for the remainder of the season and will be adding new resorts next year. This partnership allows pass holders at participating resorts to do as many runs as they like to continuously improve their times and prepare for Nationals.
As a NASTAR member, what will the Outside+ membership provide access to?
Moving forward, you will need a paid Outside+ membership to:
Get full access to all historical NASTAR results and rankings online

Be eligible for the 2024 NASTAR National Championships
Please note: Only one Outside+ membership is required per household—you will be able to share your account with your spouse and/or child(ren) and register them for Nationals.
In addition to unlocking all things NASTAR, Outside+ includes benefits across the 30+ brands in the Outside Network—from streaming access to U.S. World Cup ski and snowboard events (and 50 Warren Miller films!) to premium GPS apps and unlimited digital content, including skimag.com.
What are my perks as an Outside+ member?
You can view more information about the perks we offer, as well as how to access these perks, here.
How do I sync my NASTAR membership with my Outside+ account?
If you already have a NASTAR account, you can visit this link.
When you try to view content that is a benefit for having Outside+, you'll see a screen like this: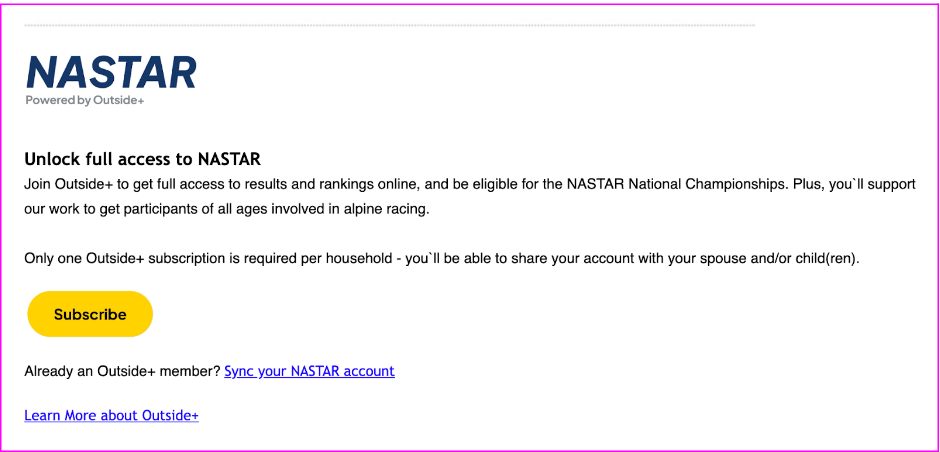 If you are not yet an Outside+ member, you will have to click on "Subscribe" to sign up for an Outside+ membership.
How do I access my Outside+ account?
For more information on your Outside+ membership, including troubleshooting assistance and log-in information, please visit the Troubleshooting Section of our Help Center.
I still have more questions about how to sign up for the National Championships and about my race results. Where can I go?
The NASTAR Help Center has more information on logging into your NASTAR account, merging your race results, how to change your NASTAR account information, and signing up for National Championships.